Category: Business & Community Leadership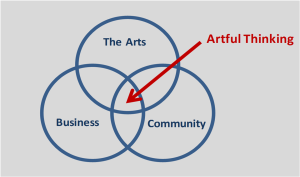 #Art    We don't have to be artists to be artful thinkers. Experiencing and appreciating art helps us develop our thinking disposition.
The point of intersection among business, community, and the arts is the place where we break down barriers. The intersection is a place where different cultures, domains, and disciplines stream together toward a single point. They connect allowing for established concepts to clash and combine, ultimately forming a multitude of new, groundbreaking ideas.
The intersection of ideas among the arts, business, and community offers excellent insights that can be used to solve difficult problems related to complexity and ambiguity, communication and presentation, and innovation. The intersection is the point where we can learn to identify ambiguous threats and to develop solutions.