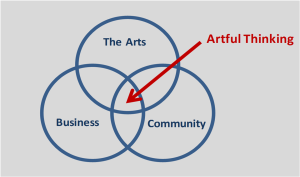 #Art    We don't have to be artists to be artful thinkers. Experiencing and appreciating art helps us develop our thinking disposition.
The point of intersection among business, community, and the arts is the place where we break down barriers. The intersection is a place where different cultures, domains, and disciplines stream together toward a single point. They connect allowing for established concepts to clash and combine, ultimately forming a multitude of new, groundbreaking ideas.
The intersection of ideas among the arts, business, and community offers excellent insights that can be used to solve difficult problems related to complexity and ambiguity, communication and presentation, and innovation. The intersection is the point where we can learn to identify ambiguous threats and to develop solutions.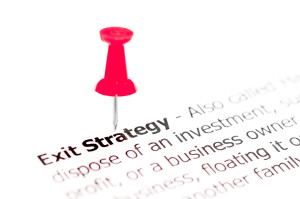 #ExitPlanning
Typically sellers spend most of their lifetime building their business. On occasion a seller's business may be in trouble to the point that he is overwhelmed and feels he has no viable alternative to either selling the company at a discounted price or shutting it down. This is a terrible position for a seller. Unfortunately, attempting to sell a troubled business with a disenchanted owner has very slim odds for success.
An outside consultant can sometimes help, either by giving the business owner a fresh, objective perspective or by providing guidance to help resolve the underlying issues.
Whether preparing your business to sell or to keep it, work to improve the underlying condition of the business. This is always the best strategy and by focusing on underlying operating issues, you can increase the value of the business.
2.3.1