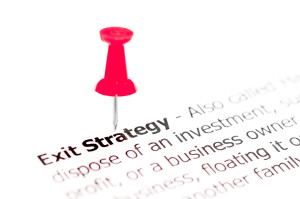 #ExitPlanning
Mistake #1: Going Solo
One of the biggest mistakes business sellers make is trying to do everything themselves. Very few owners have the time or experience to handle selling a company alone. Business brokers, exit planners, accountants, appraisers and other sale professionals streamline the process and ensure that your company is truly ready for prospective buyers. Pulling together a talented team of advisors should be one of the first things you do after you decide that it is time to sell.
Get a broker or investment banker involved. Selling a business on your own is doable, but the ongoing negotiations can be distracting and can be emotionally draining. And with your efforts concentrated on something other than running your business, your business may start struggling at the exact time you are trying to sell it. That's never good! A broker or investment banker will handle a huge portion of the negotiations and will probably get you better terms than you would on your own. In addition, they will become a much-needed buffer when the negotiations get intense.
Mistake #2: Starting the Process with Misguided Expectations
First-time business sellers often have unrealistic expectations. For example, many sellers believe their companies are worth more than actual market value and are then disappointed when their (over-priced) business does not sell quickly or at all.
During the preparation stage, it is important to right size your expectations. By evaluating the recent sales of similar businesses in your area, you can gain more realistic insights about average sale prices and how long it typically takes to sell a business like yours. Through consultations with your business broker and other experts, you can also identify the types of concessions sellers or buyers have made to close deals.
Mistake #3: Getting the Timing Wrong
Your personal feelings aside, it may or may not be the right time to sell your business. While a strengthening economy is certainly helpful, it doesn't necessarily mean that the business succession market is ripe for every business in every industry. Even if the market looks good, it is possible that your position could be stronger six months or a year down the road.
Determining the best possible time to sell your business is tricky. But by consulting with your advisory team, putting yourself in a buyer's shoes, and identifying the outcomes you want to achieve early in the process, you can uncover insights that impact the timing of your sale. In some cases, it may be better to wait until you have improved the company's financials or until the market is more likely to deliver your desired sale outcomes.
Mistake #4: Incorrectly Valuing the Company
Valuation is a tricky process. Although there is a tendency for sellers to inflate the value of their companies, it can be equally dangerous to undervalue your business. If the asking price is too low, you may leave money on the table or, worse yet, buyers may assume there is a problem and move on to other opportunities.
While your own insight and quick, easy-to-use valuation tools are a good starting point, ultimately, you need the objective valuation provided by a qualified third party. Commercial appraisers and business brokers who offer valuation services understand the marketplace and have the expertise to provide an accurate measure of your company's real value. Considering that your business is likely your most valuable asset, it pays to get the price right.
Demonstrate your value. Avoid the temptation to set a price for your business too early. Focus on what the buyer values most about your business, whether it is a new product or service, geographic expansion or human capital. This approach puts you in a better position to document value and negotiate a higher price. To get the best offer do not focus on one acquirer; allow your investment banker to increase competition and bring in multiple offers.
Buyers focused on past performance may undervalue your business. Help them see the future value of your business with analysis and documentation of your earning potential. Align this documentation with the strategic goals your buyer has in mind.
Mistake #5: Not Spending Enough Time on Preparation
Many business sellers are surprised by the amount of time and effort it takes to properly prepare a business for the marketplace. From determining value and setting the right asking price to compiling historical financials and other documents, a multitude of tasks need to be performed before you list your business.
At a minimum, you should begin the preparation process six months to a year before you intend to sell the business and, ideally, preparation starts several years in advance. In addition to allowing you to complete all the necessary preparations, longer lead time gives you time to increase earnings or improve your company's competitive position, making your business more appealing to qualified buyers.
There are no guarantees in selling a business but business owners who approach exit planning systematically and methodically are more likely to maximize their business sale prices and sell on their own terms. To do it right, be sure to start preparing well in advance of actually listing your business for sale.
Follow me on Twitter @RenitaWolf
3.4.3